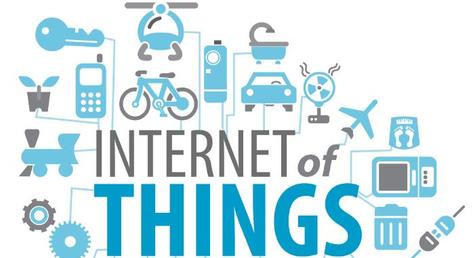 Few Words about Internet of Things
Internet of Things (IoT) is a term, which got really popular in the last few years. At the
beginning of each year experts predicted that IoT will become a thing during the year and that it will define the way we work and live.
One more time, 2016 is seen as the year of IoT, and we saw it as a good occasion to elaborate a bit more on some of the important aspects connected to IoT.
Here are some statistics that we found:
IoT devices connected to the Internet will more than triple by 2020, from 10 billion to 34 billion. IoT devices will account for 24 billion, while traditional computing devices (e.g. smartphones, tablets, smartwatches, etc.) will comprise 10 billion.
Nearly $6 trillion will be spent on IoT solutions over the next five years.
Businesses will be the top adopter of IoT solutions because they will use IoT to 1) lower operating costs; 2) increase productivity; and 3) expand to new markets or develop new product offerings.
Governments will be the second-largest adopters, while consumers will be the group least transformed by the IoT.
It is not surprising that the numbers are impressive, even so the trend is not getting as powerful as it can be expected. Can we give some examples?
Of course we can – on top of our mind the most prominent one – Smart Home. There is a growing number of devices for Smart Home that deliver the necessary convenience in your house. Do you want to manage your oven, your lighting or your heating system – there are all kind of devices for that.
Amazon is again gaining advantage with its so called Amazon Echo device – an attempt to find the ultimate smart home device that will help you manage all your smart devices at home and do bunch of other things – listen to music, have conversations or play games. Amazon is adding constantly new functionality to the device trying to catch up with the IoT trend and win from the synergy from its other operations.
Google is focusing on its Nest Learning Thermostat as one of the leading Smart Home appliances. Having been set up by former Apple employees in 2010, the company is now part of Google and is adding new functionalities for smoke detection and video surveillance. It is one of the most beautiful devices in Smart Home yet, despite not being so popular in our part of the universe.
Other areas from our home – like lighting are being revolutionized as well. Conglomerates like Philips are trying to offer us new ways to think of the atmosphere in our home.
But a very important topic where IoT is really crucial is healthcare. IoT devices and platforms here are used to help people follow their most important health indicators – heart rate, blood pressure, calories intake, exercises and etc. Old and sick people are being monitored by their relatives as well as by medical experts, to provide them the best possible care. Patients go to doctors and their entire medical records follow them so they can be urgently taken care of.
From this point of view IoT is addressing two of the most important topics in the world today – people are getting sicker and older on the average. It seems like a topic, which will take on momentum very quickly.
What is all this connected to? Where do we gather data?
IoT would not be so important if it was not for two other trends – cloud and big data. Cloud is the platform that provides the possibility for all these smart devices to function and to connect to each other and to the persons involved. Big Data is the technology allowing a vast amount of data to be contained, indexed and prepared for analysis.
So we should know in every step we take when we take in all new IoT technologies, data is gathered. It is data for everything that we do, our habits, our relatives, our communication, our homes, our cars and etc. Companies in IoT are gathering data even though some of them do not have the comprehension yet what to do with this data.
So in a very famous saying – All the answers are in the cloud, but what are the questions?
The essence of Big Data and IoT is the capability to gather data in a meaningful way and to feed it to platforms that could analyze it and provide insights for future use. Business intelligence software products are just the beginning in this massive trend to comprehend all the data.
The growing population numbers and the growing number of devices will just make the challenge more complex. Machine to machine communication is already a standard, which fuels an explosive effect on the big data trend.
Self-driven cars are already being tested and implemented partially in USA. Google is one of the companies that provide no-driver taxi service in Mountain View, CA, Austin, TX, Kirkland, WA and Metro Phoenix, AZ just to test the limitations of the technology.
All of these companies are collecting data non-stop and thinking of ways to exploit it commercially. Is it intimate – this data? A large portion of it – of course – is. We have all types of wearables, that collect our medical data, we ourselves input data for our eating and sleeping habits to other devices. There is a trend called digital dexterity that even relates to corporations using this personal data in creating a more efficient work environment for their workers?
Is this good or bad? Where is the line? Who decides if we want someone to analyze our needs, habits and even our lives?
It is a moral question that everyone decides for himself. Of course the trend cannot be stopped and no intimacy issues are able to slow it down.
That makes another trend even more interesting – security. Let's say we accept the possibility that parts of our personal lives are exposed to corporations providing us IoT devices and services. But what about unauthorized access? The greatest danger for us as individuals is that cyber criminals will also strive to access this data. According to latest data the estimated annual cost of cyber crime has added up to 100 bln USD in 2015. Almost 230 000 new malware samples are launched every given day.
The more IoT enters our lives, the more exposed we are to these types of criminals. What is being done on a security level for IoT?
Governments are starting to discuss the vulnerabilities of the technology and introducing new regulations to ensure testing and validation of devices before entering the market. Companies like Microsoft are investing heavily in securing the devices on the software level. A conglomeration of leading tech firms, including Vodafone, founded the Internet of Things Security Foundation, a non-profit body that will be responsible for vetting Internet-connected devices for vulnerabilities and flaws.
It is clear that more has to be done to protect data of consumer and companies, which will increasingly use IoT platforms in future. If you would like to learn more about IoT platforms and security, contact us at OneCloud or we can have a chat.